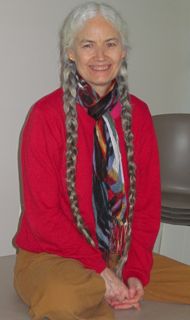 Alexandra Hughes began working with Natural Vision Education in 1998 when she started to lose her near vision. She graduated the Natural Vision Educators training in 2002.

She is a Gulid Certified Feldenkrais Practitioner. She completed the four year Feldenkrais Method® training in 2004.
She completed a number of advanced trainings including Anat Baniel Method for Children Mastery Program in 2007 and the two year Child'Space Developmental Monitoring Training in 2008.
She began her work with energy healing in 1982 and has taken many Craniosacral workshops completing the advanced workshops at the Cranial Therapy Centre including Craniosacral Therapy for Children.

She is an authorized teacher of the Sounder Sleep System.
As a psychotherapist she is registered with College of Registered Psychotherapists of Ontario (CRPO). She has completed a year of Expressive Arts Therapy training at the Create Institute. She trained in the Comprehensive Resource Model (CRM) an effective therapeutic model for the healing of complex trauma. She has completed a two-year program in Contemplative Psychotherapy. She uses mindfulness-based, body-centered psychotherapy in conjunction with a lifetime of learning and practice to help her clients get to the root causes of their distress, blocks and discomfort, and to bring about deep healing and change.
Alexandra brings to all her work a lifelong commitment to change and healing. Her approach is intuitive and spiritually based, drawing on 35 years of meditation practice.

She is a gifted and intuitive practitioner. Whether working with adults or children she brings a playful attitude and perceptive approach to creating openings for learning and change.

She is a dynamic speaker, presenter and workshop leader.
To call Alexandra or send an email and/or to receive the Learning Solutions Newsletter go to the Contact/ Newsletter page.